About Us
At Rebuilding Together Austin, we make essential repairs to help our neighbors stay in their homes.
Our work often goes beyond each home. We are rooted in the community and work closely with community residents and leaders to revitalize our communities. Together, we create and execute plans to address some of the needs of the community.
Through our work, we are also positioned to address the long-term recovery of our community struck by natural disasters. We commit to our neighbors in need and help them rebuild in the months and years following a disaster.
Our Mission
Repairing homes, revitalizing communities, rebuilding lives.
Our Vision
Safe homes and communities for everyone.
Our Work
We provide home improvement services that help vulnerable residents live in safe, healthy, and efficient homes and neighborhoods.
The work is accomplished in collaboration with community partners, volunteers, contractors, and donors.
The Need
There is a direct connection between the conditions of a home and the residents' health and safety.
Poor conditions account for many leading causes of preventable illness, injuries, and deterioration.Preserving the history and intergenerational wealth of our neighborhoods is vital to our community's immediate and future health.
STRATEGIC FRAMEWORK
Safe and Healthy Housing
Safe and Healthy Housing is the foundation of Rebuilding Together Austin's home repair work, targeting significant safety and health hazards based on the Eight Principles of Healthy Homes— keep it dry, clean, pest-free, safe, contaminant-free, well-ventilated, maintained and thermally controlled. Through critical home repairs and home modifications in underserved communities, we address the connection between health and housing, while preserving the existing affordable housing landscape in Central Texas.
Community Revitalization Partnerships
Community Revitalization Partnerships drive Rebuilding Together Austin's programming by targeting our service delivery in specific neighborhoods, engaging neighbors as partners and aligning our work more closely with other nonprofit service providers to improve the health and safety conditions of entire neighborhoods, not just individual homes. Through a systematic, coordinated approach with community members and local organizations, Rebuilding Together Austin revitalizes and sustains safe, healthy and thriving communities.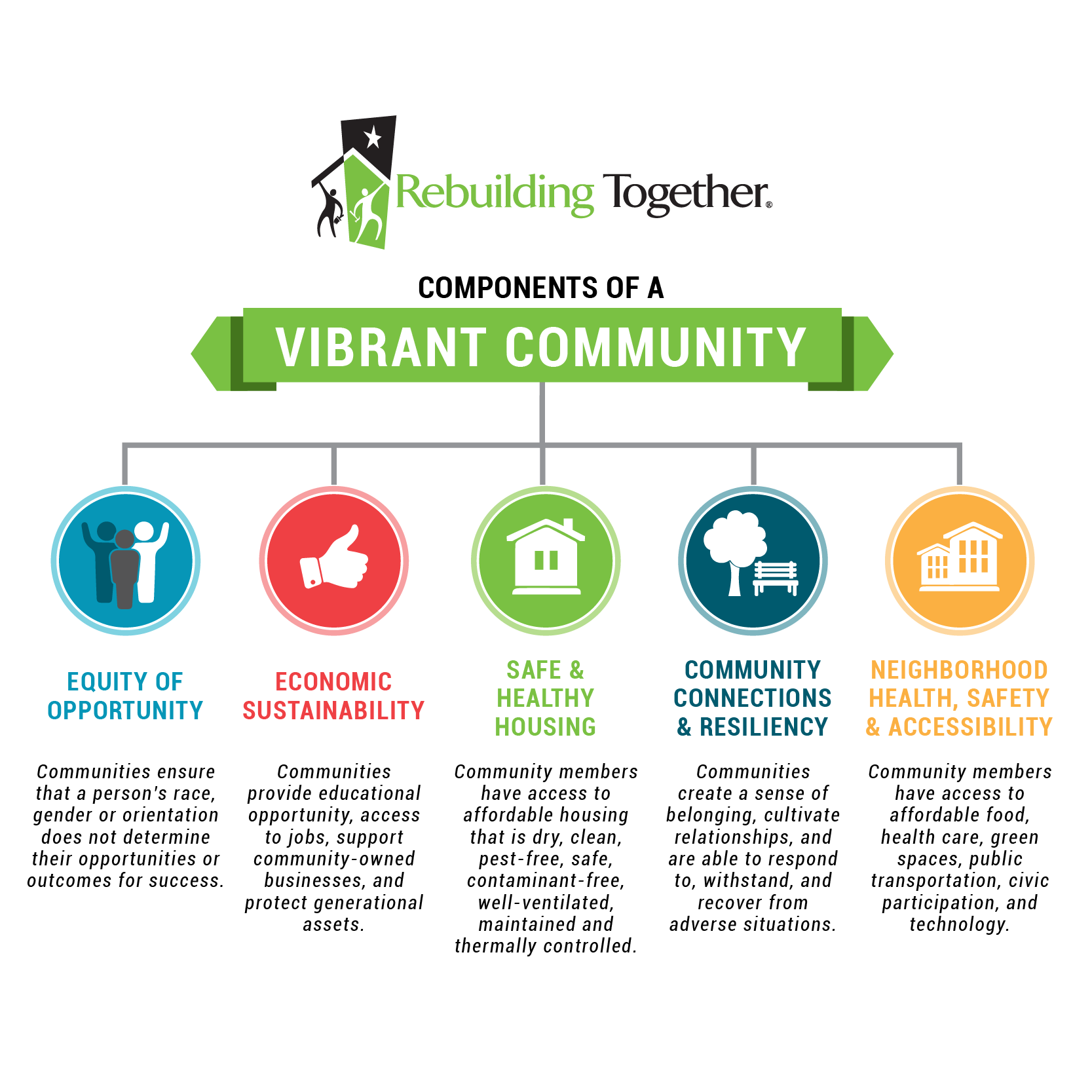 HISTORY
Local History
Since 2013, Rebuilding Together Austin has provided low-income homeowners in the Greater Austin area with free critical health and safety repairs and accessibility modifications. As a 501(c)(3) non-profit organization, we are guided by a volunteer Board of Directors who are active across the Austin community. Since our inception we have repaired over 300 homes in the Austin area.
National History
Rebuilding Together started with the simple act of neighbors helping neighbors.
In 1973, a small group of people in Midland, Texas, realized a growing need in their community. Homes in their community had fallen into disrepair and their neighbors could not afford to fix them on their own. The group volunteered their time and skills to rehabilitate the homes of their neighbors. Realizing the potential impact of this work, the group formed Christmas in April, with the intent of performing repair and rehabilitation work in their community every April.
News of the group's good work spread slowly, but eventually achieved national recognition. The mission spread beyond the idea of providing service once a year in April to bringing together partners from all walks of life to help our neighbors year-round. We opened the national office in 1988 and became Rebuilding Together.
Today, Rebuilding Together has grown into a premier nonprofit community revitalization organization.
Together, with our corporate and community partners, we repair homes, revitalize communities and rebuild lives. Rebuilding Together's local affiliates and nearly 100,000 volunteers complete about 10,000 rebuild projects nationwide each year.